---
Triglycerides and HDL Cholesterol
---
Triglycerides are a type of fat found in the blood. Everyone needs some, but too much is harmful and raises the risk of cardiovascular disease. In older women high triglyceride levels can be especially dangerous. Although medications exist to lower them, first and foremost doctors will emphasize lifestyle changes.
You can lower your levels by choosing heart healthy foods, limiting alcohol consumption, quitting smoking and through relaxation programs that are proven to be significantly beneficial such as the Transcendental Meditation program.
HDL cholesterol is widely known as the "good" cholesterol. Higher levels have long been considered protective against cardiovascular disease, particularly for women.
Recently researchers are questioning whether higher HDL levels actually cause less cardiovascular disease or are merely associated with a long list of other factors that have a positive effect on the heart. The debate will undoubtedly continue for some time. But assuming they are only an association, HDL levels may still have something important to tell us. Like a sign that reads "accident ahead" in the case of lower levels or "scenic overlook" in the case of higher levels, HDL could signal fundamental conditions within the body that are relevant to our overall heart health.
In a 12-month study 49 diabetic African American women were randomly assigned to either practice the TM program or to a health education control group focused on diet and exercise. At the end of 12 months, the TM group showed a 20% greater drop in triglycerides and a 29% greater increase in HDL cholesterol than the controls—very positive results.
Dr. Cesar Molina has dual fellowships in Cardiology and Clinical Pharmacology from Stanford University Medical Center with special interests in preventive cardiology, stress reduction, exercise and cholesterol metabolism. Dr. Molina is also the Medical Director of the South Asian Heart Center at El Camino Hospital. According to Dr. Molina:
The Transcendental Meditation technique is an effective way to lower total cholesterol. In a study published in the Journal of the Israeli Medical Association, researchers reported a significant drop in total cholesterol in people who practice the Transcendental Meditation technique.
---
Reduction of High Cholesterol
Through Transcendental Meditation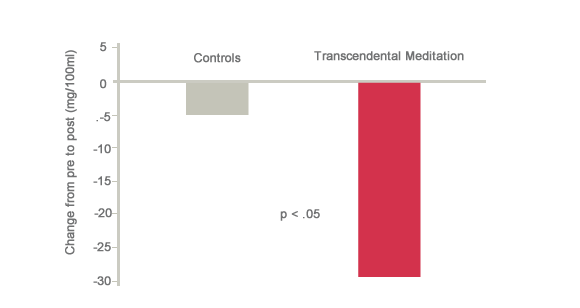 Reference: Journal of Human Stress 5: 24-27, 1979.
---
Relevant research on decreased cholesterol through TM practice:
Cooper M. J., et al. Transcendental Meditation in the management of hypercholesterolemia.Journal of Human Stress

5(4): 24–27, 1979.

Cooper M. J. and Aygen M. M. Effect of Transcendental Meditation on serum cholesterol and blood pressure. Harefuah, Journal of the Israel Medical Association

95(1): 1-2, 1978.