---
Teen Heart Health Risks
---
Several researchers at Georgia Health Sciences University have been focusing on the issue of teen hypertension. Their work focused on the role of Transcendental Meditation practice in curbing high rates of heart disease, which is especially prevalent among black teens.
Their study, published in Evidence-Based Complementary and Alternative Medicine, found that regular TM practice decreased the risk of cardiovascular disease in teens. According to Dr. Vernon Barnes, a leading researcher in the study, of the 62 black teens with high blood pressure in the study, those who did TM regularly twice daily had lower left ventricular mass, an indicator of future cardiovascular disease, than the control group.
During the TM technique, which creates unusually deep rest, the activity of the sympathetic nervous system decreases and the body releases fewer-than-normal stress hormones. "As a result, the vasculature relaxes, blood pressure drops and the heart works less," said Dr. Barnes. "Statistics indicate that one in every 10 black youths have high blood pressure. If practiced over time, the meditation may reduce the risk of these teens developing cardiovascular disease, in addition to other added health benefits."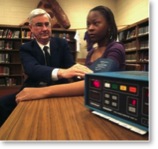 Dr. Vernon Barnes of the Medical College of Georgia and the Georgia Health Sciences University Institute of Public and Preventive Health.
Obesity has become an increasingly significant health problem in children and adolescents and is the most common nutritional problem among children in developed countries. The epidemic of pediatric obesity brings other complications with it. Compelling evidence indicates that overweight status and elevated blood pressure are connected, and together they increase risk for cardiovascular disease. Prevention of obesity and high blood pressure is the safest and most effective strategy.